J.S. Bach's Long Walk in the Snow
Friday, November 10, 2023 - 7:30 pm
Matsqui Centennial Auditorium
32315 South Fraser Way, Abbotsford BC
JS Bach's Long Walk in the Snow is a coming-of-age-story about a hot-headed, small-town orphan who narrowly avoided committing murder, turned his back on a perfectly good job and walked 400 kilometres north to find love, fulfillment, and the father figure he didn't know he needed.  The 20-year old's trek to the sophisticated port city of Lubeck was a four-month odyssey, a memorable coming-of-age trip that musical storyteller Tom Allen animates through a story of sword fights, big business and a glittering Christmas romance.  Enjoy the journey with the brilliant musicianship of harpist Lori Gemmell, vocalist Shruti Ramani, violist David Harding, pianist Alexander Weimann.
Tom Allen is a passionate music lover, storyteller, accomplished trombonist, writer and broadcaster. He hosted Music and Company on CBC Music for 10 years and then went on to host CBC Music Mornings. Prior to this, his weekly stories aired to a keen Ontario audience on CBC Radio One's Fresh Air and nationally on This Morning. Tom is a frequent onstage host for the Toronto Symphony Orchestra and has brought his Classical Goodtime Variety Show to orchestras across Canada.
Recently Tom has written a series of shows that mix storytelling, chamber music and original popular songs to bring classical music and the stories behind it to life in an inspiring and accessible format, which he calls "Chamber Musicals". One of these, Bohemians in Brooklyn, was the surprise hit at the Young Centre Cabaret Festival in Toronto and was described as "slickly written" and "beautifully punctuated with songs." This and other shows have gone on to appear with acclaim at the Ottawa International Chamber Music Festival, Music Niagara, Toronto's Luminato Festival, and at theatre and music festivals across Canada.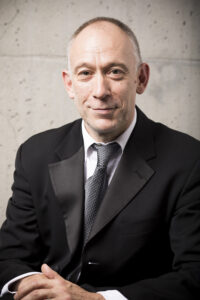 Alexander Weimann travelled the world with Tragicomedia, the Freiburger Barockorchester and Tafelmusik before becoming Artistic Director of the Pacific Baroque Orchestra and music director of Les Voix Baroques, among others. He has played on over 100 recordings and conducted Symphony Nova Scotia, the Victoria Symphony and most places between. Alex was born in Munich, where he studied organ, church music, theatre, medieval Latin and jazz piano. He recently moved to Vancouver with his family with the goal of having more time to relax. We'll see.
Shruti Ramani is an innovative and emerging artist in the Canadian Jazz scene. She hails from Mumbai, India where she secured a degree in Hindustani music under the mentorship of Dr. Ritu Johri from the Agra Gharana. She moved to Canada and acquired a Bachelor in Jazz Studies (Performance) with a specialization in voice from Capilano University.
Her original music is an eclectic combination of the Indian and Jazz traditions. She composes and arranges music that fuses the two traditions to create dynamic pieces for both large and small ensembles. She leads a collaborative ensemble named Raagaverse with respected musicians Jodi Proznick, Noah Franche-Nolan and Nicholas Bracewell. Some of her noteworthy performances include those as a bandleader playing her original music at the Vancouver International Jazz Festival and the Nanaimo International Jazz Festival, and at the Mixtophonics Festival where she premiered a string quartet composition.
Shruti has extensive experience teaching music to people with a wide range of ages, musical abilities, and genres. As a teacher, Shruti prioritizes developing a strong mentorship relationship with students, and her teaching style is supportive while building strong foundations of musical understanding in her students.
David Harding has an extensive solo and chamber music career, having performed throughout Europe, the United States, Canada, Central America and Australia, in such venues as the Berlin Philharmonie, Amsterdam's Concertgebouw, and the Metropolitan Museum of Art in New York.
Noted for his "eloquent viola playing" (The Scotsman), David has performed at music festivals around the world, including Ottawa Chamber Music Festival, Seattle Chamber Music Society, and most recently, the Edinburgh International Festival and Philip Glass' "Days and Nights Festival" in Big Sur, California. His live performances have been broadcast on CBC Radio (Canada), BBC (UK), NPR (USA), ABC (Australia) and Deutschland Radio. With flute, viola, harp ensemble, Trio Verlaine, David has recorded two CDs, "Fin de Siècle, the music of Debussy and Ravel" and "Six Departures" featuring works by Bax and Jolivet alongside new commissions by R. Murray Schafer and Jeffery Cotton. Other notable recording projects include Philip Glass' String Sextet and Schoenberg's "Verklärte Nacht" on Orange Mountain Records, Bach's Goldberg Variations with the string trio Triskelion for CBC records, the music of Aaron Jay Kernis with the Chester Quartet, and Brahms' Viola Sonatas for Skylark Music.
A devoted teacher, he is currently Professor of Viola and Chamber Music at Carnegie Mellon University, Pittsburgh and the University of British Columbia, Vancouver. A graduate of the Juilliard School of Music, David was the winner of the Sir John Barbirolli award at the Lionel Tertis International Viola Competition. He performs on violas made by Nicolas Gilles, Montpellier, France and Pietro Antonio della Costa, Treviso, Italy.
Lori Gemmel is an internationally trained harpist and multi-instrumentalist who has appeared with some of the major orchestras in Canada, including the Calgary Philharmonic, the Edmonton Symphony, the National Arts Centre Orchestra, Orchestra London and the Kitchener-Waterloo Symphony, where she holds the position of principal harp. As a soloist she has appeared with the National Arts Centre Orchestra, the Edmonton Symphony, the Kitchener-Waterloo Symphony and Orchestra London.
Lori is a busy chamber musician at home and abroad, with performances all over Ontario, as well as throughout Europe and Japan with the Montreal-based contemporary chamber group "Le NEM". She is a member the Four Seasons Harp Quartet, and appeared with Belladonna, which brought chamber music into atypical performing spaces in an effort to create a less formal listening adventure. With Tom Allen & Friends, she sings, plays the harp and trumpet, and helps create programs of music, story & theatre which they call Chamber Musicals. Lori's performances on recordings with singer-songwriters Kevin Fox, and the Grammy-nominated The Reminder by Feist demonstrate even more of her broad versatility as an artist.
She received her Master's degree from the University of Toronto where she studied with the eminent harpist, Judy Loman. Other teaching influences included Catherine Michel in Paris, France and Alice Chalifoux in Camden, Maine.  Lori now has students all over Canada and is professor of harp at Wilfrid Laurier University.